Shattering stereotypes with TinyDance tech
Bristolatino music editor, Rebecca Wilson spoke to Colombian-born producer, drummer and singer-songwriter, Gabriela Jimeno about her musical ego, Ela Minus, and shattering stereotypes through music.
Ela Minus's songs remind me of something. You feel as if you recognise the melodies from somewhere. Her 4-track EP Adapt was released this year, as she continues to bring us 'bright music for dark times' through her shimmering, airy "TinyDance" sound. Here, she answers Bristolatino's questions.
R: Your sound is composed of electronic beats, melodies and effects and your vocals are high-pitched and light. Overall this creates a twinkling, nostalgic, childlike sound. How do you create these effects, and do you feel this is 'your sound', or rather, the sound of your Ela Minus project, one of many to come?
G: I like that description "childlike, nostalgic". Yes, I think that is the sound of the project at its current state. I also think it has changed noticeably through its short life, and I believe it will definitely change again.
R: Gabriela is your real name. Why did you chose ela minus as a pseudonym?
G: It's funny answering these questions because even though they are constantly being asked to you, things with time acquire new meanings, you know? So I find myself reading your question and thinking of which of the meanings I am going to choose to write back to you. Well… Ela comes from Gabri-ela and Minus came from Michelangelo's Pistoletto concept of the 'minus man', which basically states that anything can be art if you attach an idea and a purpose to it.
Plus I really love minimalism, and I always approach music from the most minimalistic mindset possible: What is the least I can have in a song to still make it sound like I want it to sound and say what i want it to say?
R: Your music often reminds me of a journey, perhaps the soundtrack to a moving story. Tell us a bit about your decision to move to New York. How old were you when you moved?
G: Thank you, that means a lot to me.
My move to New York wasn't really a very interesting choice. I was living in Boston before, where I was going to school [Gabriela studied at the Berklee College of Music], when I graduated I had to move somewhere because I didn't want to stay in Boston, and I had always thought "I will live wherever I have music to play". At the time I was in a band and my bandmates were living in Brooklyn, so I just moved there.
R: You sing both in English and Spanish. Do you feel natural singing in English and do you conceive of lyrics as concepts before they take on a language or are they imagined in that language?
G: I have many "rules" in play for ela minus. One of those, and maybe the main one, is honesty above all. To accomplish honest art I've realized I have to work fast, try to keep my mind as far away from the creative work as possible. So, whenever I start working on a new idea I record myself singing a melody, and that melody usually comes out with some words, and in whatever language those words are in I write the rest of the lyrics on. I try to never edit the initial impulse.
R: It's great to see a female artist surrounded by wires and machines, could you introduce us to the range of tech you use- on and off stage? How did you learn to use the equipment?
G: I have found that this type of question is asked to me a lot, and I haven't read a lot of male producers interviews where they get asked what gear they use, which is not a critique in anyway to you, I just find it interesting.
The equipment I use on-stage and off-stage is essentially the same. Except for some audio processing hardware that I use only to record. I do not use computers in any stage except for in the recording audio. I have a main sequencer and sampler and I sequence (live record) all the notes into it, from it I send the MIDI  sequences to synthesizers, I usually have one polyphonic synth and a bass synth. Plus 2 Drum machines, and a delay pedal with which I process my voice and send the polyphonic synth. I have a mixer with me on stage and I control all the live mixing. 
R: You could say that the potential of sound available to electronic musicians bridges gaps between genres and cultures. Do you think this style makes your music accessible to a wider range of cultures?
G: I am unsure of that, I think it can be a double-edged-sword because we live on such a globalized planet now, sometimes the weirder sounds actually call the attention of a wider range of cultures. Because the gaps have been bridged for a couple of years now, I think ears around the world have become more used to this homogenized electronic music sound.
I actually think working the way I do, without generating sound from the king of mainstream technology: the Mac laptop, calls a little more attention to a wider range of humans. I have certainly experienced it with my live performances, I feel there is something about the instability and somewhat old-school process that I use (both to compose and perform live) that connects with people more.
R: Would you say that you can trace the Latin roots in the music you make?
G: Certainly, I would like to think I can trace my roots in every single thing I do.
I think I am a part of a generation of Latin Americans that grew up in an extremely globalized world, with a huge influence of North American culture and that is heavily a part of who we are. Music in English speaks to me and it is very close to my heart, as deep as salsa and Andean rhythms are. I proudly stand as a as a new kind of Latin artist, my music isn't literally Latin American, if you are unfamiliar with Latin American culture in the 2000's you might not recognize any Latin roots in my music, but it is there, a Latin American that grew up both listening to punk from the UK and (trying to) dance to salsa at middle school parties.
R: You will be playing the SXSW Shattering Stereoptypes [alongside Spanish trap star, Yung Beef, barcelonina New Yorker, NOIA, and Puerto Rican 'dreambow' musicians, Balún] this March. Why is this important to you?
G: Because of the answer to the last question. I think it is very important to shatter stereotypes of Latin American culture. It is about time.
R: Tell us about your recent trip to Mexico. There's a huge buzz around modern electronic music in Mexico. How was your music received and how were the gigs?
They were surreal, I still feel like it was a dream. The shows were full, and people were singing along to the songs, and dancing, and smiling, it was just all very surreal to me. I've always had a lot of love and respect for Mexican culture and the Mexican audiences, so the fact that I can see an audience building up for my music there, is just a dream come true, and I don't say that very often, hehe..
R: We loved the illustrations Daniel Liev created to complement your Adapt EP. Do you often collaborate? Who with?
G: I try to collaborate as often as possible, I love doing it. But I'm also strict on only collaborating with people from whose work  I truly love  and feel like I can completely trust them to be free. That should be the basis of any true collaboration. and I completely feel that way with Liév, I don't remember exactly when I first saw his work, but I have loved it ever since. I wrote him once before just very lightly saying "I love your work, would you want to do something for this song of mine?" And, he said yes without any more questions and just did it!  I loved the result, and loved that he didn't ask any questions. I truly love when artists just want to make things for the sake of making them. So when Vice wanted to do the visual review of Adapt I immediately thought of him again and asked him to be a part of it.
I also have collaborated a lot with an amazing Colombian design firm called Siegen&Co. They have done all of my covers (except for Adapt) and I love them and can't wait to do more with them.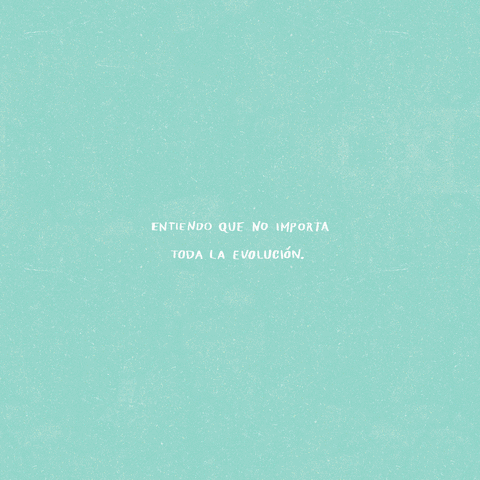 Juan Sant/ Ilustración y secuencia por Daniel Liév
R: Where can we hope to see you soon? What are your plans in the near future?
G: You can follow me on the social media things to keep up to date on where we can all see each other soon! I am going to Europe (Spain) in May, and have some more shows around New York in the months to come, and I also plan to to back home to Colombia to do a release show for Adapt. The plans for now are to tour a little with Adapt but mainly focus on writing new music that will hopefully turn into an LP.
Gabriela's music is available on Soundcloud, Bandcamp, Spotify and iTunes, and you can follow her on Twitter (@ela_minus) and Instagram (@elaminus)